Swedenborg's Science of Correspondences:
An Empirical Method for the Psychology of Religion
Leon James

© 1987

OUTLINE

I. Psychology of Religion: Strong and Weak Versions

1. Weak Version: - religious issues
- Studied through monism & Null Hypothesis (cannot think/feel about other world)
2. Strong Version: -psychological study of dualistic phenomena
- (Transcendental) (Trans-personal) (positive bias about other world)


II. Swedenborg?s Religious Behaviorism

A) Spiritual = affections + cognitions
= interior input (inner life)
Natural = sensory exterior input

Figure 1 ? Swendenborg?s description of the person as a dual being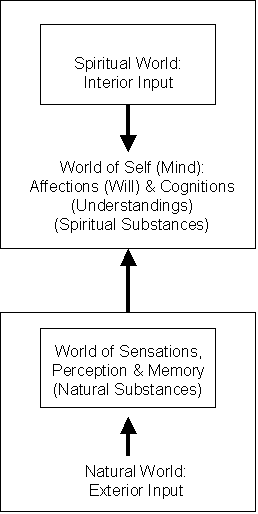 B) Separate, but corresponding relation between spiritual and natural parts of a person.

i) General version:
- moral deterioration of man leads to natural calamities (social breakdown and disease and
ugliness).
ii) Specific version:
- religious feelings and thoughts (i.e. about dualistic ideas)
- (interior input)
- externalize as natural
- corresponds ("symbolism")
- corresponds ("parables")
- (i.e. natural ideas without negative bias)
VS.
| | |
| --- | --- |
| Philosophical | Communal |
| Speculative | Collective |
| Subjective | Objective |
| Idiosyncratic | Phenomenal |
| Non-empirical | Empirical |
| Fantastic | Actual |
| Cultist | Experiential |
| | Observational |
III. Science of Correspondences:
A) General Version:


SPIRITUAL
SPIRITUAL
NATURAL
Affections
Cognitions
Sensations/Memories
i)
Love of Self
ideas that justify

DOMINION OVER OTHERS

attachments & focus on

PHYSICAL PLEASURES & GAIN

ii)
Love of the world
ideas that justify

EQUITY MORALITY

attachments & focus on

NORMS & MERIT

iii)
Love of others
ideas that justify

FAITH OBEDIENCE

attachments & focus on

RITUALS & CREED

iv)
Love of God
ideas/doctrines that justify

ALTRUISM

attachments & focus on

GOOD WORKS


B) Specific Version:

1.
LOVE
WISDOM
USES
2.
GOOD
TRUTH
POWER
3.
ESSENCE
(ESSE)
CAUSE
EFFECT
4.
FIRST END
(GOAL)
MEDIATE END
(INSTRUMENTALITY)
ULTIMATE END
(PRODUCT)
5.
WILL
(AFFECTIVE
UNDERSTANDING
(COGNITIVE)
ULTIMATE END
(PRODUCT)
6.
INTENTION
PLAN
EXECUTION
IV. Applications: Applied Theistic Psychology (spiritual geography)
A) Communal (collective) revelations
(spiritual communications) (e.g. Bible)
(prophetical) (visions) (Divine)
(commandments) (guides)

B) Dreams
(see Journal of Dreams)
(self-revelation) (growth) (preparation)
C) Metaphor in everyday expressions
(trigrammatic theories) (critical thinking ability)
D) Instructional Parables
(spiritual attitudes) (proper strivings)
(reformation) (repentance)
E) Illustration (insight) (moral wisdom)
(regeneration) (mental health) (self exam)
etc.) indicates sub-areas of study (THEORY & RESEARCH) for Theistic Psychology.


Research issues:
A1) What is the difference between guides to conduct from a religious source (collective revelation) and non-religious source (human invention)?

IV

1

IV

2

Revealed Scriptures

Human Invention

DV1 - mental health (Tillich)
DV2 - productivity
etc. - lifestyle

B1) What are valid methods of dream analysis?

C1) Does thinking improve with the study of semantic relations based on correspondences?

D1) How hoes an acquired transpersonal orientation (or practice of religion) bring about personal change
and adjustment?

E1) How is goodness attained?