Religious Behaviorism
Chapter 5
By Dr. Leon James
Here You Will Find a List of Items Found in This Chapter:
1. The "Father/Son" Lord Before His Advent:

(AC 9315/EX.23: 20-30) =The Lord form eternity.
= Jehovah God the Father.
= Divine Good "Father" and Divine Truth "Son."
= Divine Human (often appearing in human form as an angel in O.T.).
Good = Divine Itself = "Father."
Truth = Divine Word = "Son."
Father/Son" = The Lord.


2. The "Father/Son" Lord After His Advent:

=The Divine Human putting on flesh and bones and glorifying this. *
=Divine Man Jesus Glorified in whom is Divine Human Jehovah
---------------------------------------------------------------------
* and by which He subdued the hells. (salvation).
(("human" = a striving rationality or rational affections)).

- - - - - - - - - - - - - - - - - - - - - - - - - - - - - - - - - - - - - - - - - - - - - - - - - - - - - - - -- - - -


3. The Paraphrases of the "Incarnation":

a). I am the Lord from eternity
b). I, "Father/Son - without flesh," am Jehovah your God.
c). I, "Father/Son - without flesh," came down and put on flesh and bones.
d). I, "Father/Son - with - flesh," am Jesus Christ, Son of God, Whom ye can see henceforth.
e). I, "Father/Son with flesh" am one with Father/Son - without - flesh."
f). No one has seen the "Father/Son - without - flesh" but now ye can see Him by seeing the
"Father/Son - with - flesh," the glorified Jesus.

- - - - - - - - - - - - - - - - - - - - - - - - - - - - - - - - - - - - - - - - - - - - - - - - - - - - - - - -- - - -


4. The Word = The Trinity from Eternity:

= The Lord.
= Father/Son/Holy Spirit.
= Good/Truth/Power.
= Jesus ("flesh and bones").
= God.
= Jehovah and Son.
= Divine Human (invisible).
= One.

- - - - - - - - - - - - - - - - - - - - - - - - - - - - - - - - - - - - - - - - - - - - - - - - - - - - - - - - - - - -


5. Incarnation:

= Divine Human within imperfect physical body being purified and glorified and take up to Heaven.
= Jesus and "flesh bones."
= (visible) Divine Human.
= The Lord.

- - - - - - - - - - - - - - - - - - - - - - - - - - - - - - - - - - - - - - - - - - - - - - - - - - - - - - - - - - - -


6. Regenerated and Reformation:

Regenerated = new state in which man acts from good through truth from ("salvation") the Lord.
Reformation = state prior to regeneration in which truths are implanted through a man's faith while he battles his evils from fear of the Lord or religion. When these truths of faith are loved and done, they are conjoined to good ("heavenly marriage") and the man is regenerated.
Loving and doing truths of faith allows the man's will to receive the Lord's food and, to the extent this occurs, the man's understanding is opened to heaven ("angelic wisdom").

- - - - - - - - - - - - - - - - - - - - - - - - - - - - - - - - - - - - - - - - - - - - - - - - - - - - - - - - - - - -


7. The Work of the Servant:

i). Reformation:
1. Hear the Word.
2. Shun evils as sins.
3. Love and do the Word.
------------------------------------------
ii). Regeneration:
4. Will good/Love.
5. See truth/Wisdom.
6. Act right/Uses.

- - - - - - - - - - - - - - - - - - - - - - - - - - - - - - - - - - - - - - - - - - - - - - - - - - - - - - - - - - - -


8. Figure 20: The Two States of Regeneration: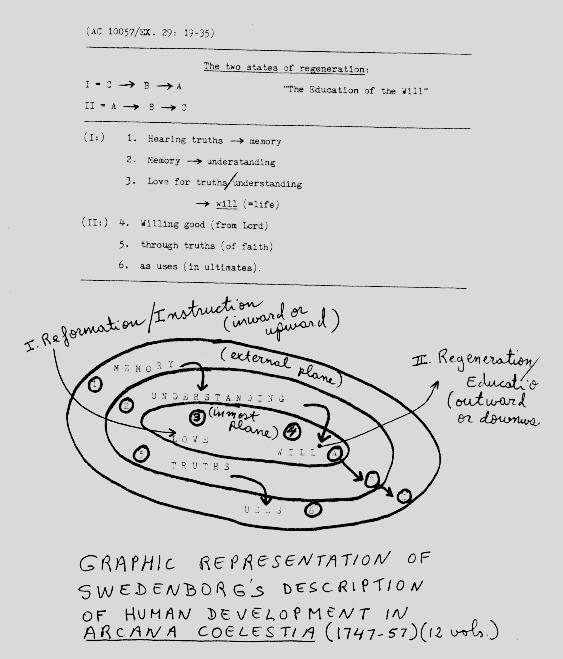 - - - - - - - - - - - - - - - - - - - - - - - - - - - - - - - - - - - - - - - - - - - - - - - - - - - - - - - - - - - -


9. Beasts = Affections:

(AC 10075/EX. 29: 19-35)
BEASTS = affections.
SHEEP = they who are in charity.
LAMBS = they who are in innocence.
RAM = the good of charity and innocence in the internal man.

TENT OF MEETINGS (Aaron's Garments):
SON = Divine truth in the lord.
SON OF MAN = the Lord in flesh = the Word in its ultimate.

FACES/(AARON) ALTAR:
FATHER = Divine Good in the Lord.

CROWN OF HOLINESS: ("the Lord's internal man") (AC 1812)
Jehovah = the Lord's Divine Human prior to His Coming and putting on flesh, but appearing as an angel in OT.

(anointing) and (the ram of fillings in hand):
Jesus = the Lord's Divine Human in flesh, glorified.
Servant = Jesus prior to His glorifying Himself.
God = the Lord.
Divine Human ("Father/Son") = the Lord's Divine good conjoined to His Divine truth (from eternity).
Christ = Jesus as Savior of mankind.
SON OF GOD = Christ.
The Word = the Lord's Divine truth proceeding ("Holy Spirit").
SAVIOR = the Lord's work of regenerating man (salvation), (removal of evils and introduction into heaven).

- - - - - - - - - - - - - - - - - - - - - - - - - - - - - - - - - - - - - - - - - - - - - - - - - - - - - - - - - - - -


10. Wave-Offering = Acknowledgment of Faith in Worship:

WAVE-OFFERING = acknowledgment of faith in worship (vivification and purification).
WAVE/MOTION (journey/progression) = displacement = change of life states (reformation/regeneration).

- - - - - - - - - - - - - - - - - - - - - - - - - - - - - - - - - - - - - - - - - - - - - - - - - - - - - - - - - - - -


11. Education of the Will:

EDUCATION of the WILL:
STEPS (STATES):
1). Knowledge/Memory (study).
2). Acknowledgment (worship) (vivifying).
3). Faith and confirmation in life (practice).
------------------------------------------
4). Good and love in the will and in the loves.
5). Truth in understanding and rational.
6). Goods and uses in thought, speech, deed.
------------------------------------------
John 5: 2-7
POOL OF BETHESDA = worship and faith.
STEPPING IN = acknowledgment of faith.
ANGEL MOVING WATER = vivifying.
SICK PEOPLE = needing goods and truths.
HEALED = vivified and purified (given spiritual life) (salvation).
------------------------------------------
acknowledgment - external worship (communion).
confirmation in life - spiritual worship (works).

- - - - - - - - - - - - - - - - - - - - - - - - - - - - - - - - - - - - - - - - - - - - - - - - - - - - - - - - - - - -


8. Figure 21: Divine Truth: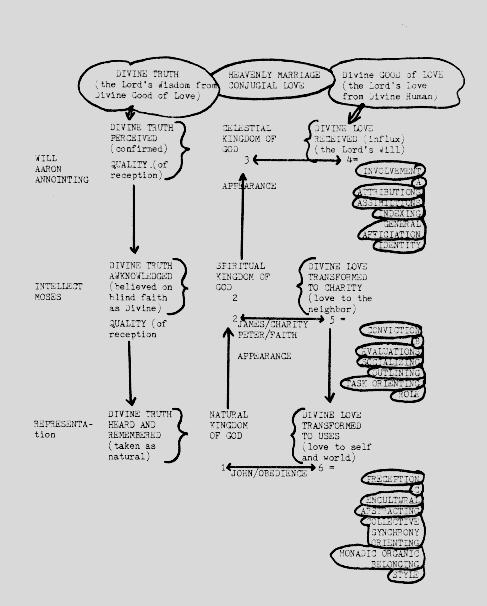 - - - - - - - - - - - - - - - - - - - - - - - - - - - - - - - - - - - - - - - - - - - - - - - - - - - - - - - - - - - -


8. Figure 22: Boiling the Flesh of Sacrifices: